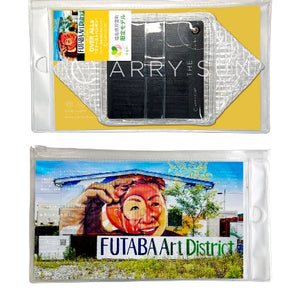 Turn the blessings of the sun into a compact light.
Solar rechargeable, portable lightweight LED lantern "CARRY THE SUN"
Eco-friendly solar charging
・ No need for batteries and no dust
-Charge is just by exposing it to direct sunlight.
 It's very eco-friendly because it doesn't use electricity.
・ Solar charging saves power
Lightweight & compact
-Can be stored in about 1.2 cm when folded.
 It is as thin and large as a smartphone.
-Light and very convenient to carry.
About the material
-Uses a durable yacht sail fabric woven with thread
-Durable sewing using UV resistant thread
・ Waterproof and dustproof specification IP67 acquired
・ Implemented JIS standard compliant drop test
Various ways to use, from the outdoors to everyday life and emergencies
・ Full-scale specifications used by professional alpinists
-Daily movable interior lights, nightlights, entrances and bathrooms.
-While using it as a "disaster prevention equipment", it also prepares for a power outage in the event of an emergency.
・ It will be a great gift for your family and friends.
-It has an indicator lamp that shows the remaining charge at a glance, so you can use it with confidence.
Size: 11 x 11 x 11 cm (when used) 11 x 21 x 1.2 cm (when stored)
Weight: 86g
Power supply: Lithium polymer battery
Specifications: 10 LEDs, water resistance: IP67
Brightness: Strong / 100 lumens, Medium / 20 lumens, Weak / 10 lumens
Lighting time: strong / 10 hours, medium / 42 hours, weak / 72 hours
Charging time: 7-9 hours (It may take 9 hours or more depending on the weather and season)